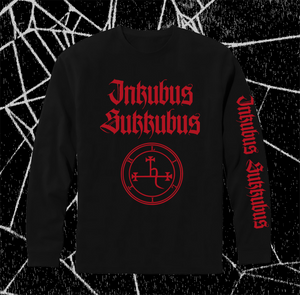 Official Merchandise 
"Inkubus Sukkubus formed in the summer of 1989 when Tony McKormack, Candia Ridley and Adam Henderson met at college studying graphic design. They shared an interest in , witchcraft and vampirism as well as making original music from an early age, and so the type of band that was to emerge from the joining of forces was, quite naturally, an expression of this. Initially the band was called Incubus Succubus. The original aim of the band was (as it still is today) to be the vehicle in which the celebration of the Pagan experience could be conveyed."
Details:
Professionally handmade screen print on a black long sleeve.


Sizing: In Inches (Width x Length)
S - 18x28
M - 20x29
L - 22x30
XL - 24x31
Attention:

Pre-Order item (please allow 3-4 weeks for processing before order is shipped)
If you order in stock items along with this one, all items will ship when this one is ready. Please place a separate order if you want your other items sooner.
*processing times are estimates.