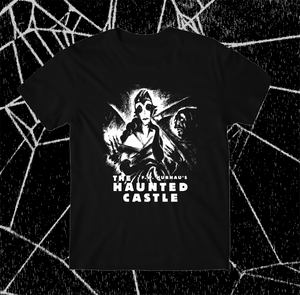 The Haunted Castle (1920) 


From the same director of the silent horror classic Nosferatu (1922), F. W. Murnau... This film is a moody psychodrama, "blending multiple flashbacks and dream sequences with a gloomy atmosphere.... It is one of the earliest surviving works of (F. W. Murnau)." 
Details:
Professionally handmade screen print on a black tee.


Sizing: In Inches (Width x Length)
S - 18x28
M - 20x29
L - 22x30
XL - 24x31
Attention:

Pre-Order item (please allow 3-4 weeks for processing before order is shipped)
If you order in stock items along with this one, all items will ship when this is ready. Please place a separate order if you want your other items sooner.
*processing times are estimates.